Night on the Town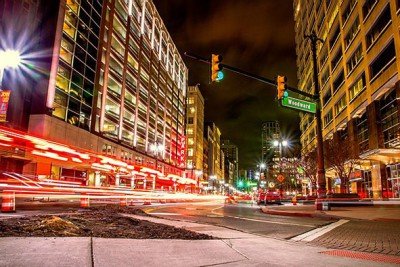 Too many people these days subscribe to the nomenclature that Detroit is an evil place, where no fun can be had. They generalize Detroit as being a dangerous place with dangerous people doing dangerous things! Detroit hasn't been in the lead for the murder rate for years! Violent crime is the crime that people sweat the most and Detroit has a much higher crime rate against property then it dose violent crime. Detroit area has seen a 14 percent decrease in violent crimes in the last couple years and it keeps dropping, even during these tough economic times. This is a sure fire sign that crime prevention techniques are really catching on and soon we will be enjoying the freedom and security of a north side Chicago shopping trip on the east side of Detroit.
With all that being said the nightlife in Detroit is in tact and ready to entertain all! Can't you just imagine the fun in store for you down town, in the city, that the blood sweat and tears of the American contractor, factory worker, teacher, nurse, and salesman helped to create! New comers to the arena of night time hot spots are places like: Pulse, Amnesia, and Bleu Room Experience.
Pulse is an amusing place to sit back and relax and enjoy some drinks and socialize. I especially like the fact that the bar has a great location right in the center of down town Detroit. The social aspects of the bar are excellent, seeing as the bar is set up strictly for conversation and the makings of watching a game on the projection screen. The bartenders are very experienced at mixing cocktails and it shows!
Amnesia is more then just the name of a bar; it is what happens to you after drinking one of the house specials! They offer bottle service and you can reserve space for special occasions. This place requires a strict dress code. No gangster type attire or sports attire, you need to be spick and span and wearing dress shoes even. This bar sits atop the 16 th floor of Motor City Casino. Motor City Casino would be a great pit stop on the way to an evening of dancing and socializing in such a nice atmosphere.
Bleu Room Experience is an excellent source for fun and excitement. The place is centered on its ability to entertain with music from some very experienced DJs. The bar touts an EAW Avalon sound system! The sound system is unofficially dubbed as the best place to listen to techno and trance music in the Detroit metropolitan area! The bar has some really exotic looking waitresses that display true beauty. The staff is very attentive and provides excellent service. You can pick up tickets ahead of time to insure that you get to see your favorite major headlining DJs.
There are so many other venues that you can visit in Detroit to have a good time. To name some additional spaces that may interest you for an evening of fun and excitement you may want to check out Proof. Proof is a great place to hang out with friends and talk. The bar's sound system is set to a level where you can enjoy the music and a conversation at the same time. Proof mainstay is martinis. The bar has a bunch of seating as well as a dance floor for people to dance if they want to. The martini list is EXTENSIVE! You could drink there for a year in your spare time and not try all the flavors!
Centaur is a sweet bar! A nice place to take a date for some drinks and very delicious food. The ambiance of the bar is higher class, but the dress code isn't really enforced. It would be best to, at the very least wear a collared shirt and a pair of nice slacks. The place has comfortable seating. Tuesday night is movie night! The movies start at 9 pm generally and popcorn it provided! Happy hour is every day from 3-7 P.M. and provides martini's for five dollars. Stop in a check out poetry night for some spoken word poetry hosted by Sandra Hinton.
If you're looking for a great place to hang out with more of a sports bar ambiance, Cheli's Chili Bar is a great place to hang out. The "deck" is a great place to hang out in when the weather gets nice. There is a partial service bar located up top serving most of the mainstay drinks that you would expect to be served at a satellite bar station. You have a really nice view of Comerica Park, and many people decide to have some pre game drinks up top before a game. The food at Cheli's is high quality and you can always rest assured that you will enjoy some delicious eats.
If you're looking to change your venue from a sports bar to a sports related environment you can attend a night game at Comerica Park. The games will go to 11:00PM and can fill an evening full of enjoyment. After the game let's out head on over to Lafayette Coney Island for some of the best hotdogs and chili fries in town! You always get your food fast at Layfayette, the choices are limited to: hotdogs, chili, cheese, onions, fries and pie. If you happen to be leaving the down town area a little early and feel like having something spicy, head over to Mexican town! Xochimilco is a great place. It has big portions and is open until 2:00 AM! The margaritas are the best in town hands down. I recommend the steak fajitas. The portions are very generous and the steak is always tender and tasty! The price is really good two. You can expect to be well under a hundred dollars with a party of four having light drinks.
Don't be afraid to experience all the great places Detroit has to offer. Support your city; it is in fact the best possible place to experience the best of the best of Michigan!