Bachelor Parties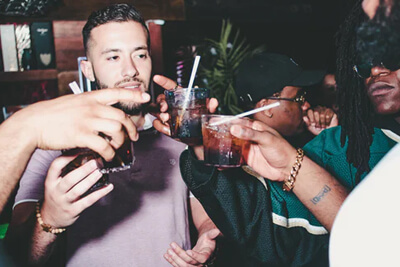 When faced with the task of planning a bachelor party for a buddy in Detroit, it is easy to get overwhelmed by all of the different party options available. In fact, you could probably make a Detroit bachelor party itinerary to last you an entire week if you wanted to. With all of the interesting things to see, places to go, and music to hear in this hustling and bustling Michigan city. One of the best ways to fully enjoy a bachelor party is to rent a party bus. With a party bus, you could take the party on the road to your next party destination, making sure that the fun doesn't stop. Here are some tips on what you can do for a Detroit bachelor party with a limo bus.
Touring Metro Detroit
Detroit is known worldwide for two things. The first is its large automobile industry, which has earned the city the name "The Motor Town." The second thing that Detroit is best known for is its music and live performances, earning its other nickname "Motown." If the groom has a favorite band in town or a preferred venue for watching live performances, you can ride the party bus down to watch or perhaps participate in one of the many music events around town. The musical culture and history of Detroit has also led to the emergence of a lively night scene, with clubs that play music of different kinds. You can even plan a tour to some of the best clubs around town so you can make the most of your night and your party bus.
Throw a private party at a resort
One of the advantages of renting a limo bus is that you can bring the whole gang in a single bus. This makes it easier to travel to far places without having to make a schedule and find a way for everyone to get there. Taking the party bus to a remote area like a secluded resort or a nice hotel is another idea for the bachelor party. In the winter theres plenty of nice ski resorts up northern Michigan like Boyne, Treeetops, Shanty Creek, or Crystal Mountain among many others. In the summer you can visit one of the many nice lakes that Michigan has to offer. There are plenty of resorts at places Like Higgins or Houghton Lake that will do vacation rentals. Even if the resorts may be a little out of the way for a normal drive, the party bus has lots of room for getting comfortable and being relaxed along the way while listening to music or watching a movie on the 32" flat screen TV. And when you finally get to the resort, you can let the staff take care of you and your buds, especially the groom. Get a package deal for your accommodations so you have all the bases covered, from food and lodging to entertainment and R&R. Just make sure that the place you want to go to is within the allowed travel distance of the renter.
Hit some of the nicest places in town
Another way to enjoy a bachelor party is to go to some of the most popular and classy places in town. A bachelor party is basically an excuse to spend a little extra money to enjoy the finer things in life. Splurge a little and bring the boys for a steak dinner that they'll remember it for the rest of their lives. Detroit has some of the best-known steakhouses in the region and there's nothing like having a well-prepared prime cut of meat. Make sure that the place that you decide to go to is somewhere that the groom is fond of; perhaps you can try a place he has always wanted to go to but hasn't been willing to spend on.
Drink, drink, drink
A staple for the typical bachelor party is alcohol. Beer, wine, champagne, cocktails, liquor shots, and all kinds of alcohol can help everyone loosen up and have a good time. Whether you decide to make drinking the main event of the evening or just an accompaniment to the other things going on, there are lots of drinking options to choose from. You can bring the group to get wasted at one of Metro Detroit's top-notch bars or you can bring the drinks onto the party bus to take them wherever you want to go. The best thing about drinking and having a party bus is that you already have a designated driver, so everyone can drink without worrying about how they're going to get home.
Go to the strip club
A bachelor party wouldnt be the same without hitting a local strip club. Metro Detroit has many strip club options for what you're looking for. If you're looking for something more upscale with the hottest girls in the area i would suggest trying out The Flight Club in Inkster or The Penthouse Club in Detroit on 8 Mile. Be sure to dress good as they may have dress codes. Some other nice clubs are The Toy Chest, Silver Cricket, and The Pantheon Club in Dearborn. If you're looking for something more affordable Henry The 8ths or Bogarts are good. Downtown Detroit has Bazoukis which is located in Greektown. If not everyone is 21 you can try Deja Vu in Ypsilanti or Highland park which is 18+ but doesn't serve alcohol.
Take the party outdoors
For grooms who love the outdoors, a party bus is ideal for bringing the whole group for an outdoors excursion. Plan a long camping trip at a single destination or have the limo bus take you and your friends to a number of camping venues, hiking routes, or outdoor sites. With the party bus, you won't even have to worry much about the space for bringing all of your gear. Tents, stoves, bags, clothes, drinks, food, clothes, and all kinds of outdoor equipment can be brought along on the bus. Just make sure to plan your traveling route well to make the most of your outdoor bachelor party adventure.
Have a sports fest
Those who enjoy sports and physical activities may want to spend their Detroit bachelor party playing or watching some sports. You can watch one or more of Detroit's professional sports teams. To make the experience one-of-a-kind, you can get the best seats in the arena (check the ticket section of CraigsList.com for a tickets under face value), like court-side seats or a VIP viewing room. Another choice is to plan a sports fest for the entire day, or perhaps several days, wherein the main focus is playing and enjoying sports. Go to a posh golf club, a high-end sports complex, or even just a nearby park where everyone can have some fun. Accompany your sports fest with a barbecue and some drinks, so everyone can get comfortable.
No matter where you decide to go on your Detroit bachelor party, make sure that everyone is out to have fun and make it a memorable time for the groom. Getting a limo bus is a great way to ensure that everyone is on board and enjoying throughout the party. Make sure to include full details in the invitation, including the destinations and some of the activities so that everyone knows what to expect, what to bring, and how to make it one of the best times of the groom's unwed life.